PAPER AND PACKAGING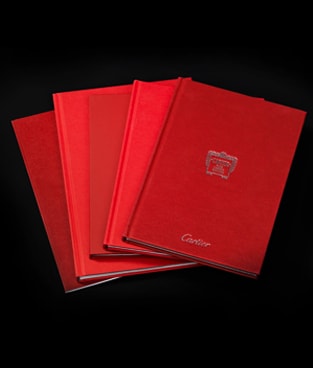 In compliance with our corporate responsibility philosophy, we are committed to purchasing the materials used for crafting and packaging our products from responsible sources.
PAPER AND PRINTED MATERIAL
Apart from using TCF (totally chlorine free) and ECF (elementary chlorine free) paper, Cartier is committed to opting for paper from forests which are managed in an environmentally-friendly, socially-beneficial and economically-viable way.
Our policy is to systematically source material from responsibly managed forests, with appropriate certification of the suppliers' chain-of-custody and materials.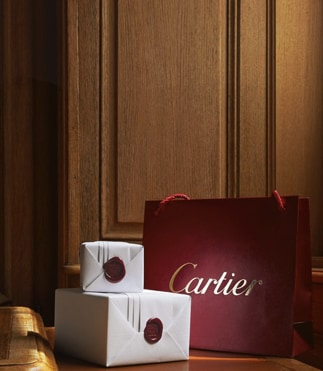 PACKAGING
For packaging activities, Cartier had a specialist firm carry out complete life cycle analysis (LCA) for two of their iconic packaging products – the Cartier red bag and the red gift boxes used for all Cartier products. Both items were selected as they are emblematic of the brand and transcend a single product – they are used frequently across all stores to package watches, jewellery and accessories.
The life-cycle analysis encompassed an extensive information-gathering exercise in areas such as raw materials usage, production processes and transportation for both products.
The studies highlighted areas for potential environmental improvements and have acted as a catalyst; encouraging the buying team to work with suppliers to investigate alternative, sustainable fibre materials as a replacement material.
All our red shopping bags are made of FSC (Forest Stewardship Council) or PEFC (Programme for the Endorsement of Forest Certification schemes) paper.
Since the end of 2009, the Cartier red box is made of more environmentally-friendly material for the covering and overlap, and use coatings which are solvent and plastic free. The paper used to cover the red boxes contains 50% of PCW recycled fibres and is FSC certified.
TEXTILE PRODUCTS
As part of Cartier's commitment to environmental stewardship, we have extended our analysis of resources and materials used beyond precious materials and paper to include textile materials.
This is why we have conducted an in-depth analysis of our after sales service tools (red pouches for jewellery, time-pieces and accessories). Since 2011, our after-sales pouches are made of a material that is OEKO-TEX® Standard 100 compliant.
The International OEKO-TEX® Association is an alliance of 15 well-known textile, research and test institutes in Europe and Japan, with branches and information centres in more than 50 countries world-wide.
The OEKO-TEX® Standard 100 is a global uniform testing and certification system for textile raw materials, intermediate and end products at all stages of production. Its aim is to ensure products are free of harmful substances. The catalogue of testing criteria contains more than 100 testing parameters.
Since 2013, all boutique staff uniforms are manufactured using an OEKO-TEX® Standard 100 compliant material. Extending the scope of our analysis and actions to professional textiles is a natural extension of Cartier's approach to social responsibility.