CARTIER. LE STYLE ET L'HISTOIRE (2013-2014)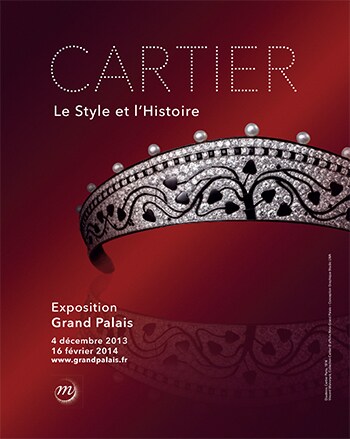 Paris, Grand Palais
4 December 2013 – 16 February 2014

Cartier. Le style et l'histoire, presented in the prestigious Salon d'Honneur room of the Grand Palais, Paris, is the first exhibition of this scale to be held in the French capital since the Cartier retrospective at the Petit Palais in 1989. This new exhibition, commissioned by the Réunion des musées nationaux – Grand Palais, explores the role of Cartier in the history of style and decorative arts, from the founding of the Maison in 1847 up to the mid-1970s.

Displayed side by side for the first time are more than 600 exquisite pieces, primarily from the Cartier Collection, along with loans from private parties, institutions and museum collections from France and abroad. Together these pieces offer a unique testament to the rich and complex history of the Jeweller to Kings and the King of Jewellers.

Cartier's creative genius and artistic flair are presented in a new light under the innovative curatorship of Laurent Salomé, Curating Director of the RMN, and his Assistant Director Laure Dalon, who approached the exhibition as an art history project.

This selection of jewellery, accessories, timepieces and mystery clocks is complemented by more than 300 documents from the Cartier archives: notebooks, drawings, order books, inventories, plaster casts, autochromes and photographs that provide insight into the jeweller's creative process.

Spanning decades of style, inspiration and glittering personalities, the Cartier story is revealed in this ephemeral setting.