A STORY OF STYLE AND HERITAGE (2013)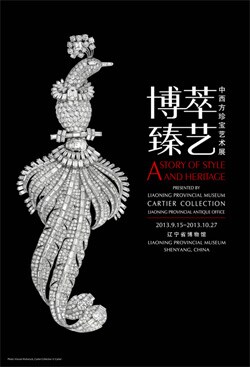 Shenyang, Liaoning Provincial Museum

Thirty years after the creation of the Cartier Collection, this prestigious museum paid tribute to one of Cartier's inexhaustible sources of inspiration: China.

300 pieces from the Cartier Collection were shown in connection with 100 masterpieces from the Shenyang museum's Chinese collections. This unique selection was accompanied by documents drawn from the Maison Cartier's archives.

This exhibition was testament to Cartier's creative development and its rich sources of inspiration, with objects that displayed refinement down to the smallest detail. The materials, forms, motifs, colours and iconographic repertory reflected these aesthetic influences, which first inspired Cartier to create breathtaking clocks and precious objects in the 1920s.

The pieces assembled in these two collections illustrated the dialogue between these two cultures and were testament to the Parisian jeweller's curiosity and eternal fascination with the Far East.