As if in a fairy tale, a wave of the magic wand turned a simple pen, a bottle, a lighter or a comb into something wonderful, precious and sparkling. Such transformations illustrate the history of Cartier. They were often associated with important moments and exceptional people. But they were born from a careful amalgam of style, taste, and expertise that produced a miracle: the art of a great jeweller enhancing everyday objects.
LILLIPUT LIGHTER
CARTIER PARIS, 1932
Yellow gold, platinum, black enamel, old round-, single-, baguette-, and square-cut diamonds.

The term "Lilliput" is used in the Cartier Archives for objects of small size and is applied to lighters and pens.
3.3 x 3.4 cm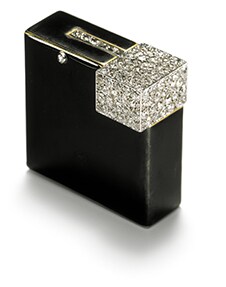 COMB WITH CASE
CARTIER LONDON, SPECIAL ORDER, 1937
Platinum, blond tortoiseshell, baguette-, old-, brilliant-, and single-cut diamonds.

Case with profiled edge.

Special order for Barbara Hutton.
Barbara Hutton (1912–1979) was the granddaughter of the founder of the Woolworth's retail chain, and one of the richest women in the world. On 23 June 1933, she married the Russian prince Alexis Mdivani, the first of her seven husbands. For her wedding, she wore an extraordinary pearl necklace and a diamond-studded tortoiseshell tiara, both made by Cartier. An enthusiast for magnificent jewellery, she became one of the firm's most loyal clients.
17.70 x 4.50 cm